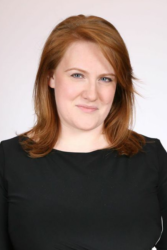 Erica Elliot Richardson
Principal
E-Mail: ERichardson@jstpc.com
Erica Elliott Richardson is a Principal at Jochum Shore & Trossevin PC where she specializes in global public policy, communications and strategic advisory services. She provides the firm's clients the ability to coordinate communications, regulatory and policy strategies in the United States, United Kingdom, European Union and emerging markets.
During her tenure on Capitol Hill, Erica was involved in the most pivotal legislative and political developments of the last decade. She advised a senior member of the House Financial Services Committee throughout the financial crisis and subsequent Dodd-Frank financial services reform legislative process, aided the House Republican Leadership team in the successful campaign to win the majority in the 2010 elections and served as senior staff to the House Majority Leadership throughout the debt limit debate and the 2013 government shutdown as then-Majority Whip Kevin McCarthy's Communications Director.
Both on and off Capitol Hill, Erica has organized international congressional outreach through member and staff visits to the United Kingdom, Europe and Asia, while also coordinating political and congressional visits to the United States for international officials and business leaders. She has successfully advised global corporations, public and private companies, government officials and political leaders on advancing initiatives and achieving desired outcomes.
As a political strategist, Erica is frequently quoted by international news outlets including The New York Times, The Wall Street Journal, the BBC and the Financial Times.
Erica lives in both Washington, DC and London, UK with her husband, Matthew, and is currently pursuing a Doctor of Law and Policy at Northeastern University in Boston. She is a graduate of Auburn University with a Master of Arts degree in political communication and a Bachelor of Arts degree in public relations.