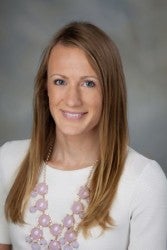 Amber Fahy
Senior Director of Government Relations
T: 202.290.1120 ■ F: 202.403.3235 ■ E-Mail: afahy@jstpc.com
Amber leads day-to-day lobbying activities for several of the firm's clients, specializing in health, energy, cannabis and financial services issues. She is also responsible for maintaining relationships with a variety of public interest groups that often align themselves with client priorities. Amber is involved with a number of key outside groups such as Women in Government Relations, representing the firm at the NRCC's 218 Club and DC Young Republicans. She has quickly become a key asset in connecting clients to insider and often critical political information.
Amber has Bachelor of Science in Community Health from George Mason University. She enjoys volunteering, taking special interest in children and the elderly.
Amber currently resides with her fiance David in Northern Virginia with their dog Beau and his buddy George the cat.